Details
BMB DAH-100 200W Karaoke Mixing Amplifier with Bluetooth

The BMB DAH-100 High Performance Digital Karaoke Amplifier designed in Japan to bring premium BMB sound quality into your living room. All the essential mixing functions such as low, mids, and high adjustments are available for microphone, echo, music and master volume controls. Individual volume control for two microphones with gain adjustment, echo delay and repeat, and master balance controls are available for fine tuning.
Bluetooth lets you connect your smartphone or tablets and play your music with excellent stereo sound. The DAH-100 is a 2-channel amplifier 100W per channel which fills your party with 200W of solid power. This is perfectly paired with the BMB CSH-200 Vocal Karaoke Speakers (optional). An RCA subwoofer output is built in so you can send the correct fine tuned audio signal to the BMB CSH-W200 8" Subwoofer (optional).
This amplifier features seamless AC input voltage from 100V to 240V making it compatible worldwide. The new switching power supply technology reduces weight significantly making installation or moving to other locations easy.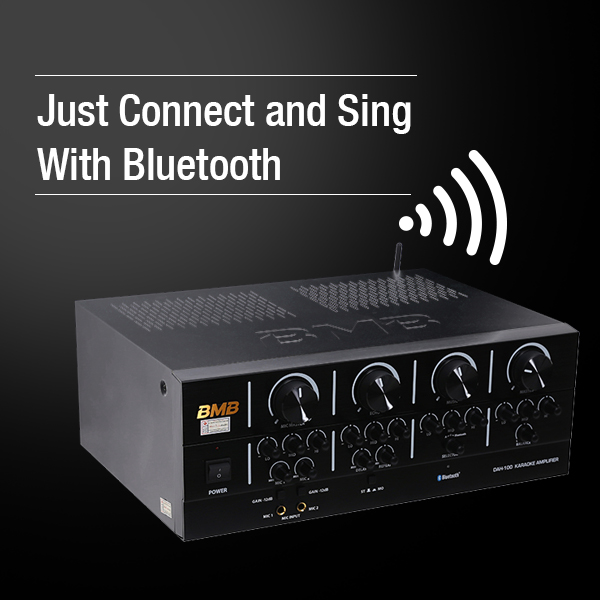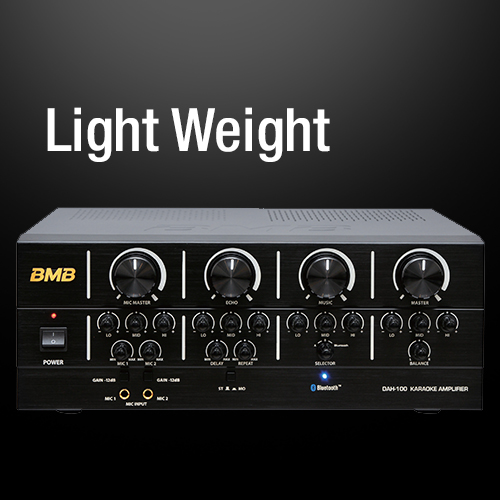 Specifications:
Max Output Power: 100W x 2CH (4-8Ω, EIAJ)
Audio Input: 3 Systems (AUX1, AUX2, Bluetooth)
Mic Input: 2 Systems
Echo: 2 Modes (Stereo, Mono)
Equalizer: 3 Bands (Master, Music, Mic, Echo)
Bluetooth: Ver4.0, Supports A2DP
AC Input: AC100V ~ 240V (50/60 Hz)
Dimensions: 16.54" x 6.65" x 13.43", 420mm x 169mm x 341mm
Weight: 10.8lbs, 4.9kg
Place content here you want to share with your customers on every product in your store.